Fry Big Fish: Brand Development
OBJECTIVE
LapchickCo was hired to increase statewide awareness through the development and implementation of a well-targeted brand that would be communicated via multiple channels.
CHALLENGE
In order to inform the development of strong brand visuals, we collaborated with stakeholders to define BCM's unique essence and brand personality. Some of these stakeholders were involved with the organization since its inception and were naturally resistant to change.
SOLUTION
We chose to invest a bit of extra time to engage long-term stakeholders one-on-one. This investment led to more complete buy-in, some unexpected insights, and a few welcome suggestions that were useful for other aspects of the project as well.  
POSITIONING STRATEGY
After obtaining total stakeholder buy-in, we focused our positioning on BCM's efforts to make Maine a better place to ride for every type of cyclist. To that end, we wanted to encourage everyone who rides a bike of any type and for any reason, ("all riders of all levels, all ages, and all types of bikes,") to realize their individual importance in BCM's biking community. To demonstrate member diversity, we featured a solid representation of all types of riders through field-leveling black and white photography. To evoke inclusion of everyone who rides a bike, we changed the focus from whether you're a cyclist to what type of cyclist you are. 
DESIGN
Of the five initial logo-system-and-design directions presented, the BCM board chose to adopt a simple two-color design featuring an updated brand yellow and black. Also in keeping with the idea of BCM's original logo, the new logo was designed to represent all types/any type of cycle, this time by featuring a generic bicycle with a fun, stylized wheel. 
The final designs included the Bicycle Coalition logo and logo system for sub-brands, including their annual Women's and Lobster Rides. 
OUTCOME
We were then able to successfully re-design  and develop multiple collateral pieces that worked together to amplify the brand, which included a comprehensive engagement brochure and supporting poster, a "join" poster for bike shops, a "join" web banner for alliance sites, a temporary home page website banner, a rack/wallet safety card, auto rules+safety poster, membership card, design direction  of brand treatments on wearables, redesign of biking law brochure, re-design of printed newsletter, and a helmet fit card. We also designed stationery, including letterhead, business cards, and envelopes plus welcome packets, water bottle stickers, bumper stickers, and helmet stickers. (Whew!)
As is a big secondary goal of all brands we develop, the care we took in communicating this brand also sent an underlying message that BCM is a consistent, organized, engaging, and effective group that members will feel good be involved with.
CLICK HERE if you'd like to see what growth we can bring to your brand.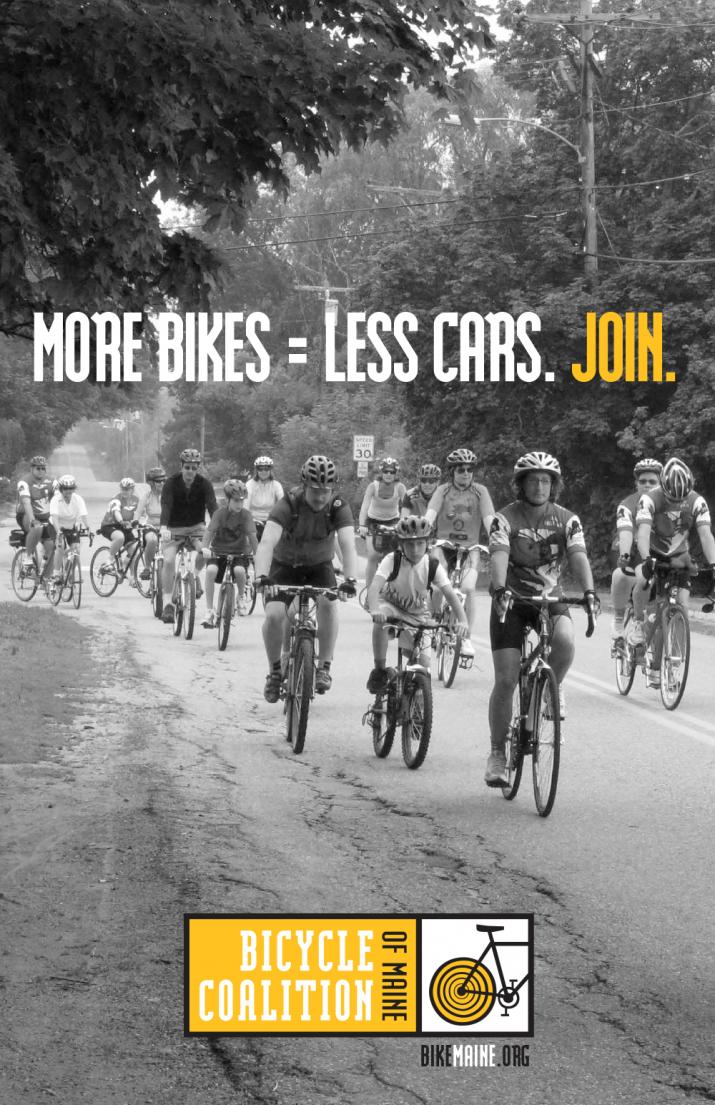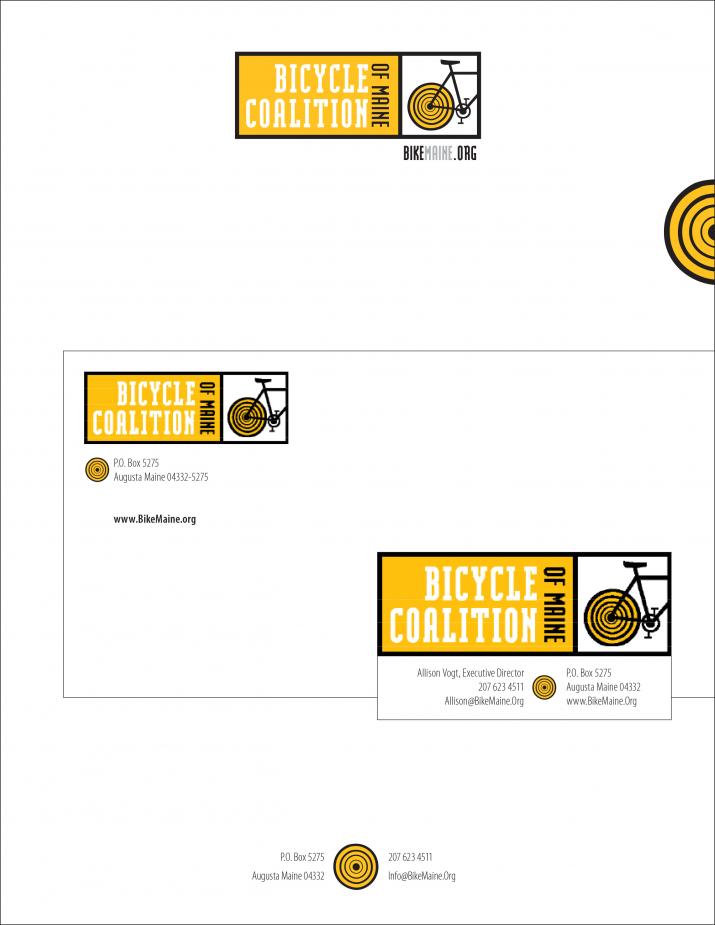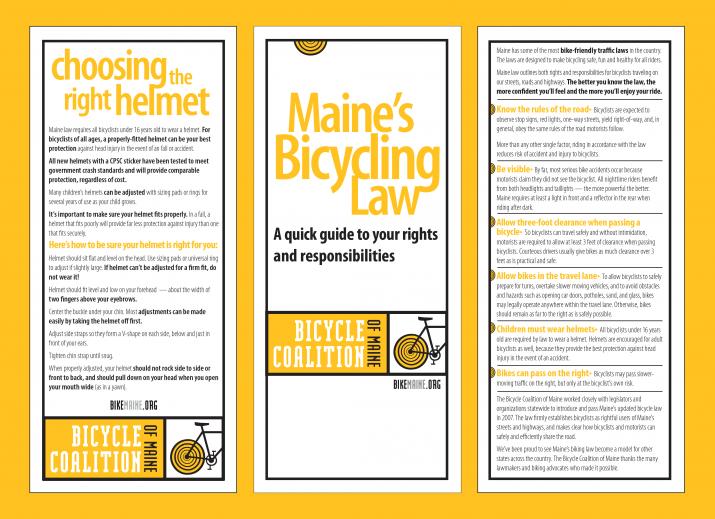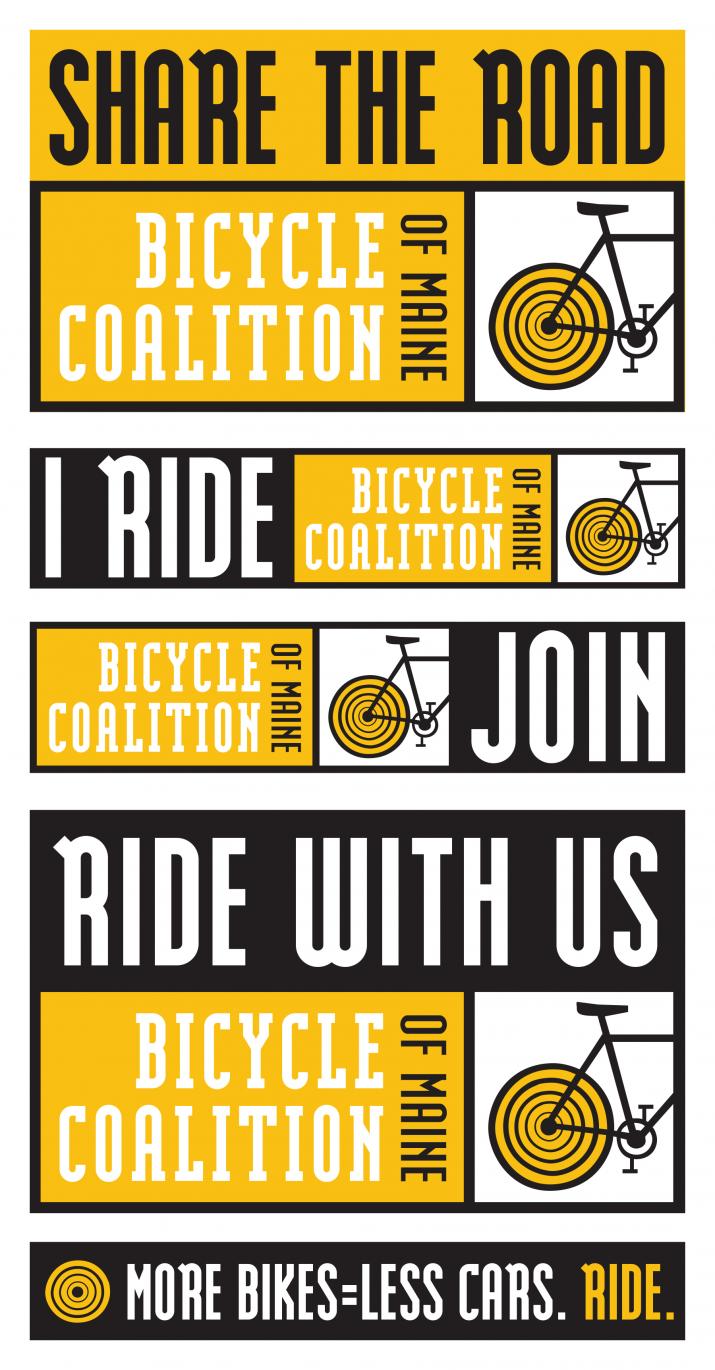 Water Bottle, Bicycle + Bumper Stickers